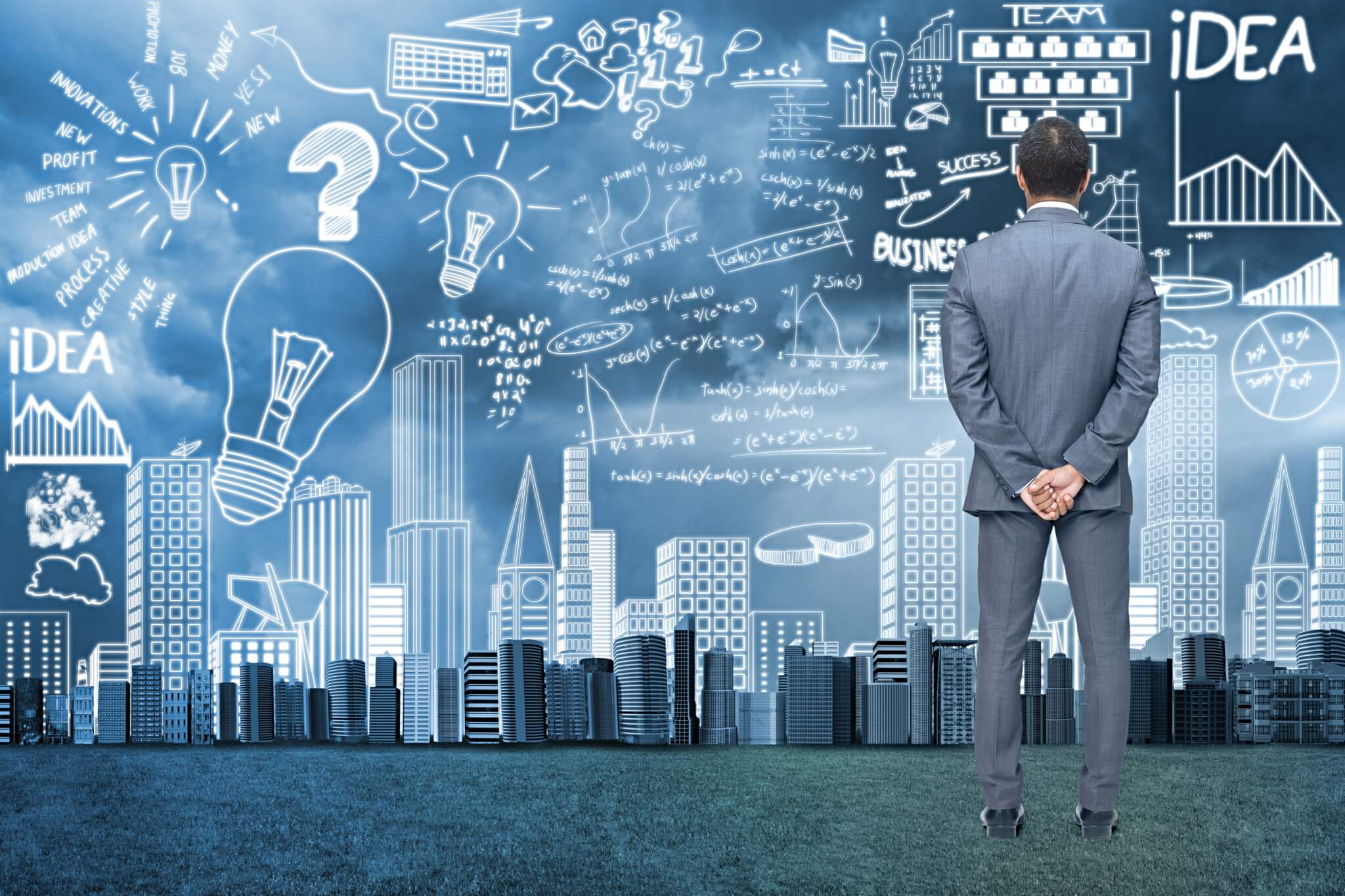 This post may contain affiliate links. Click here to find out more about this.
Have you heard the saying, "content is king?"
Well, of course, you have. However, creating more content won't necessarily get you more search traffic.
You've heard people mention stats like the average piece of content that ranks on page one of Google contains 1,890 words.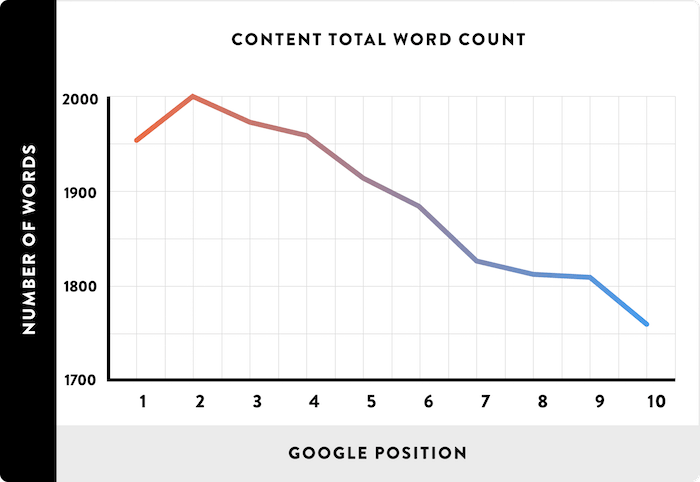 However, that doesn't mean writing in-depth content that is 1,890 words will automatically get you more search traffic. It just says that the average web page on page 1 contains many words.
I bet you are going through the scenario below…
You keep writing content but, for some reason, you aren't getting the amount of search traffic that you would like to be getting.
Don't worry, I know what you are going through, and I will tell you the solution. However, first, let's go over how content marketing is changing.
Over 440 million blogs exist
The latest stat I could find on the web is that there are currently 440 million blogs.
However, if you consider Medium and Tumblr (and other similar sites), that number is undoubtedly over a billion because just Tumblr alone has over 400 million blogs.
So, what does that mean for you?
Because there are so many blogs, it's going to be hard to drive awareness.
---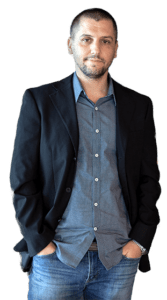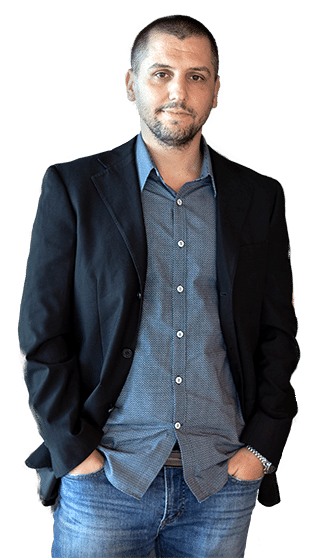 See How My Agency Can Drive Massive Amounts of Traffic to Your Website
SEO – unlock massive amounts of SEO traffic. See real results.
Content Marketing – our team creates epic content that will get shared, get links, and attract traffic.
Paid Media – effective paid strategies with clear ROI.
---
There are roughly 7.5 billion people on this earth, and the number of blogs is growing faster than the population. So, if you assume, there are approximately 1 billion blogs, that means there is one blog for every 7 and a half people.
That's way too many blogs!
So why should someone read yours instead of the others?
Why doesn't content marketing work as well as it used to?
Because there are so many blogs, you have tons of competition.
Whatever you are thinking of blogging about, the chances are there is already someone (or tons of people!) already blogging about it. Seriously!
Even if you are planning to write about news and current events, the chances are some other blog is going to beat you to the story… even if it is by an hour (or a few minutes).
With there only being so many popular keywords that people search for, there are now more websites competing to reach the top of the rankings.
Currently, Ubersuggest is tracking 619,718,788 keywords globally. During the last 30 days, only 24,593,402 of them generated over 10,000 searches.
Moreover, no matter what popular term you are going after, you are going to have much competition.
For example, I rank on page 1 for the term "SEO" (at least in the United States). However, I am competing with many sites… 581 million to be exact!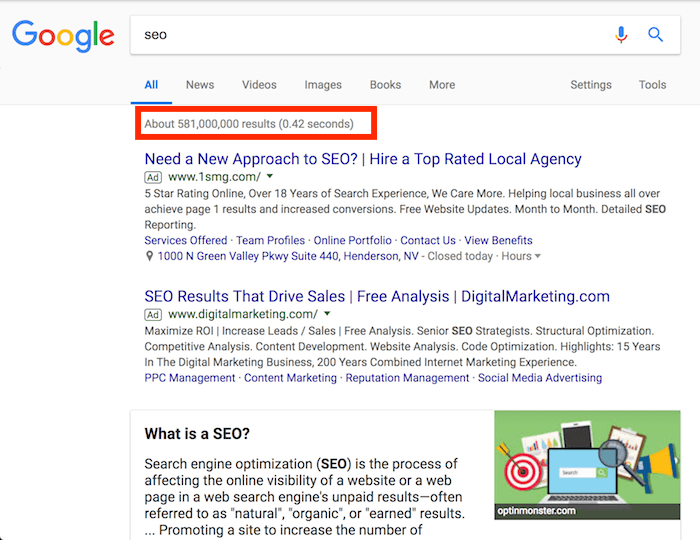 If you want to go after one of those 24,593,402 keywords, you are going to face much competition.
Sure, you can also get much traffic from long-tail phrases, but even those are getting more competitive over time.
How does your content strategy need to change?
As I mentioned above, whatever you are writing about, chances are someone is already writing about it.
When I started my first blog, Pronet Advertising (which no longer exists), the first post I wrote was called, "Winning the Search Engine Marketing War." It was 412 words long, contained no images, and had no links. However, that was way back in 2005, and content marketing was much different back then.
If I published it today, it would do terrible. Back then I didn't have a personal brand, no one knew who I was, and the post still did pretty well.
Heck, the standard social channels like Facebook weren't even being used by marketers.
Do you want to know why it did well? Because it was new.
Back then, people never read a post about winning the search engine marketing war. It was fresh, and people wanted to know more. The fact that it was short didn't matter.
Now, when you publish new content, there is a good chance that people have already read something similar. Because of that, why would they want to link to your piece or even share it?
Even worse, only 8 out of 10 people read headlines, but only 2 out of 10 will click through. That means people feel your content isn't interesting or that they already know a lot about the subject matter of your content.
In other words, if you don't write something new and unusual, it won't do well.
It doesn't matter if you made your content 1,890 words, bought some social shares, or weaseled your way into a few backlinks… no one will care if it isn't something original and unique.
Just look at the search phrase "SEO tips." Three million six hundred thirty thousand web pages are competing for that term.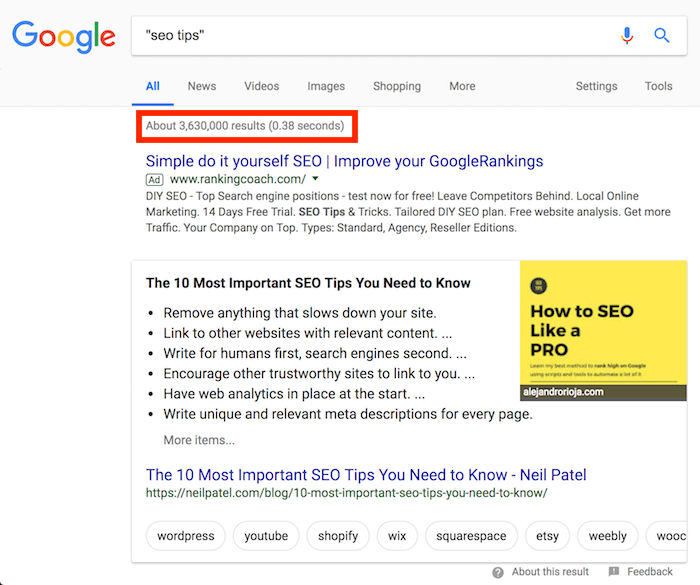 Moreover, almost everyone who ranks for that term is writing about the same old stuff. The only difference is how many tips they include in their article.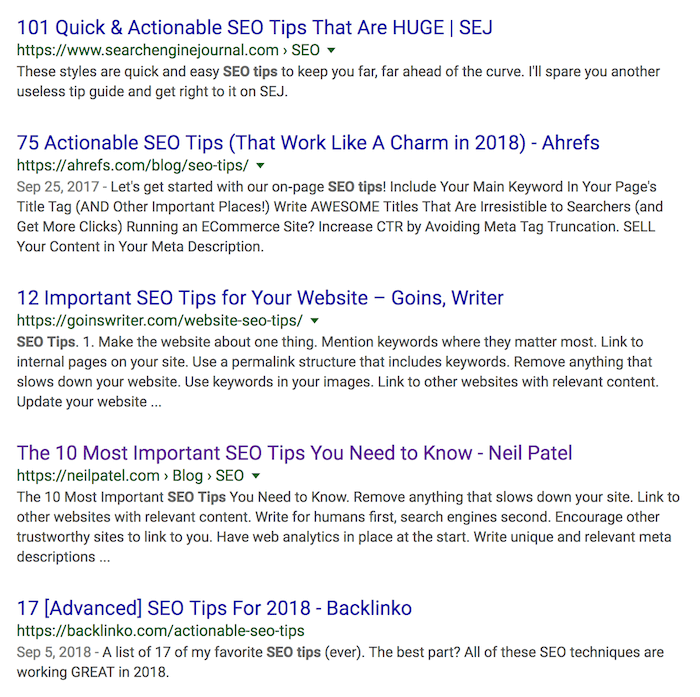 How do you write new content that's fresh?
You need to share life experiences. Your life is unique. If you can tie your personal experiences into your content, you'll do much better.
Do you notice a pattern?
They aren't generic posts like "10 ways to double your search traffic" or "how to rank on Google"… each post contains something new… which you already know.
But what else?
They don't rank as high on Google compared to some of the posts I wrote earlier this year (or in previous years), yet they are still the most popular ones because they are unique.
Whether it is data that people haven't seen before or something based on a personal experience that people can learn from, the articles that are unique and can only be written by you will perform the best.
In other words, you have to be original to get loved. Not just by Google, but by people.
So how do you write unique content that contains data and has personalized stories?
Here are some ideas:
Buzzsumo
If you put in a keyword related to your industry, it will show you all of the popular posts.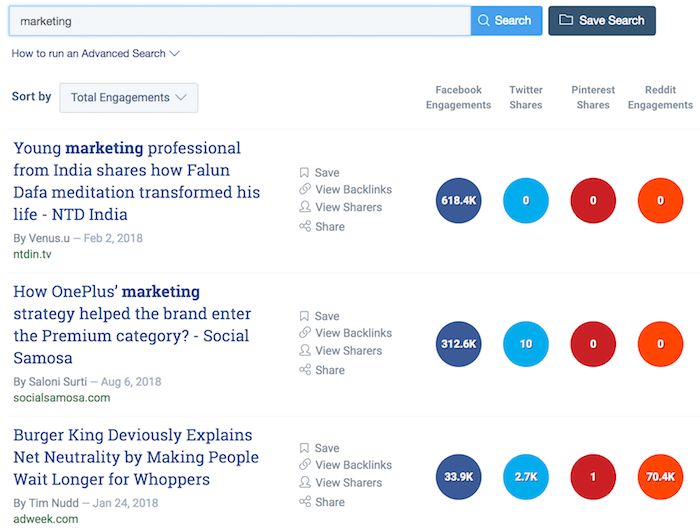 Avoid writing another "copycat" article. If you have a unique perspective on any one of those topics and it is something that the industry hasn't seen, there is a good chance it will do well.
But it can't be another copycat article that talks about the same old things that have been talked about a thousand times before.
My favorite part about Buzzsumo is that it will show you what's popular during specific time frames.
You can adjust your search to the last month, year, five years, or any time range to see how people's preferences have changed over time.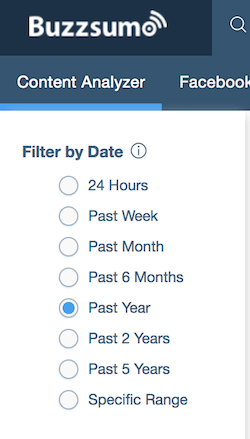 By using this feature, you will get a better understanding of where the market is moving and how you need to adapt.
Google Trends
This simple tool shows you what's hot right now. Literally at this very second.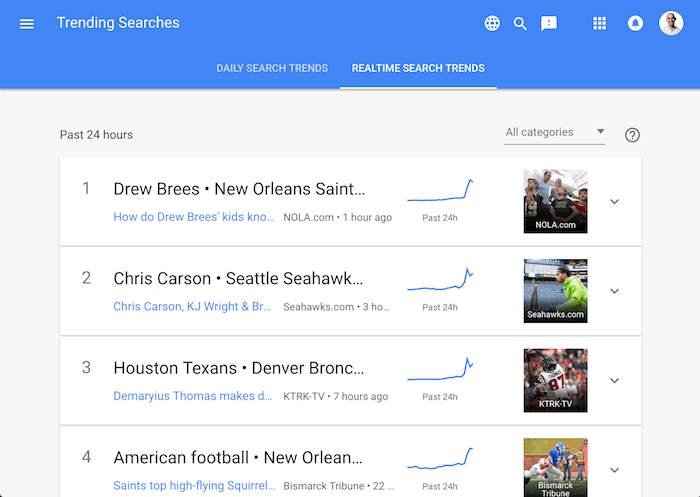 You can even filter the real-time trends per industry.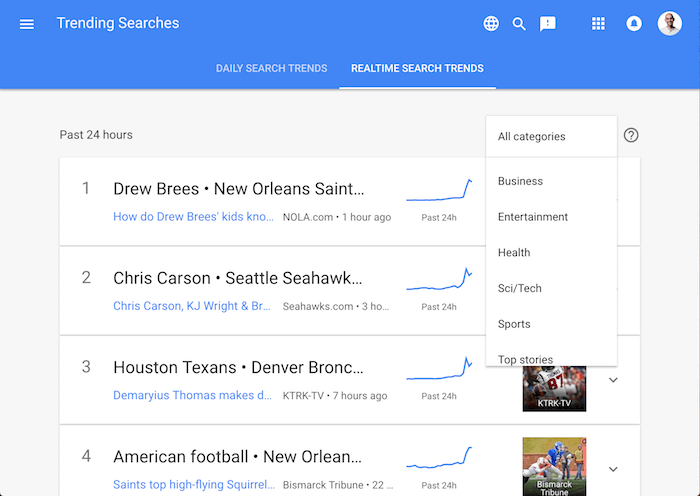 Alternatively, you can see what's been famous for the day as well as the number of searches performed.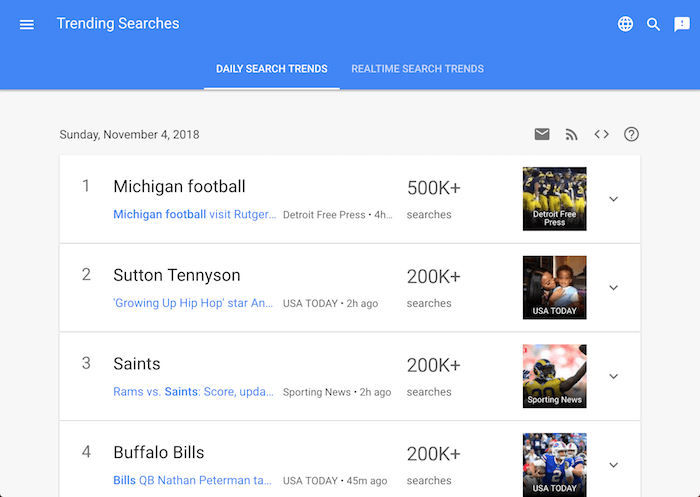 Moreover, of course, you can use Google Trends for any country. The above screenshots are for the United States.
If you have a unique perspective on any of these trends or data, you should consider riding the wave and creating a blog post as soon as possible.
Beware, many people use this tactic, and the majority of the traffic will be taken up by popular news sites. However, if you have personal experience or data related to the trend or topic, then you can do well.
SurveyMonkey
If you already have some readers, the easiest way to come up with unique topic ideas that they will love is to ask them for advice.
For example, why not create a free survey using SurveyMonkey and ask your readers questions like "what would you like me to blog about" or "what would you like to learn" or "what's the biggest problem I can help you solve?"
Asking questions like these should give you great ideas.
When surveying, make sure you get over 30 responses. The more, the better because you can use their text analysis feature to see what the majority of your readers are interested in.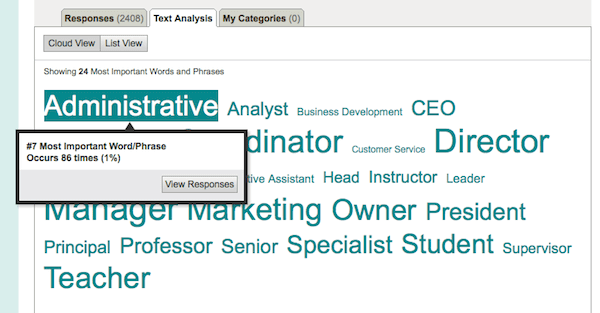 Problogger Job Board
If you are interested in using data and research within your posts to make them unique, consider hiring someone from the Problogger Job Board.
That's what I do.
If you already have data, you can find someone on Problogger to help crunch everything and give you golden nuggets for your post.
Alternatively, if you don't, they can gather research from all over the web and come up with something unique.
I found some researchers that are amazing at what they do. They hit up the tool companies within my space, ask them for data, and then come up with interesting insights that deliver value to my readers.
In exchange, the tool companies get free press, which helps them and, in most cases, they will also share and promote your post.
An excellent example of this is the post I wrote on Hummingbird. It has a ton of unique data points, and I mentioned the companies that helped me gather the data.
But other people have generic content and do well…
Yes, there are tons of blogs with generic content that rank well. However, here is the thing, their content is either old, in which they were one of the firsts to cover the topic, or they have high authority.
When high authority sites like Huffington Post and Entrepreneur write generic content, it ranks because they already have lots of brand queries, backlinks, and social shares.
If you have over 20,000 brand queries per month (you can see how many you have in Google Search Console)…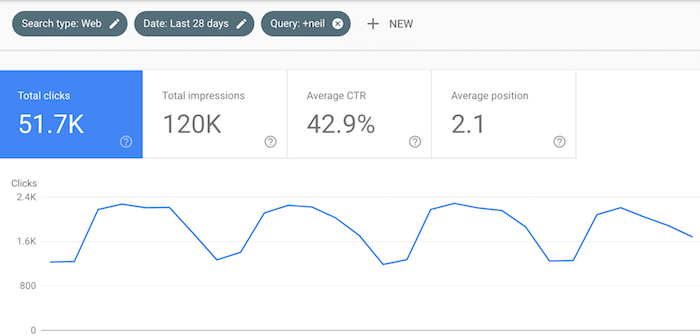 …and you have also had a domain authority of over 60, and you'll see some results if you write generic content.
I still don't recommend going the generic route (a lesson I have learned from my own experience), but if that's what you want then make sure you at least meet those rough guidelines.
At least that is what I found you need for the most competitive industries going after the English market.
If you don't have the authority or any brand queries, you can still do well with generic "copycat" content, but you would have to focus on international regions.
---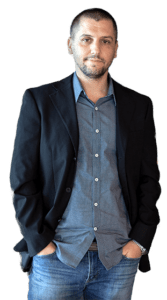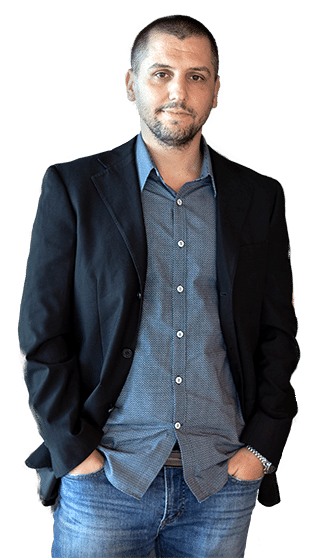 See How My Agency Can Drive Massive Amounts of Traffic to Your Website
SEO – unlock massive amounts of SEO traffic. See real results.
Content Marketing – our team creates epic content that will get shared, get links, and attract traffic.
Paid Media – effective paid strategies with clear ROI.
---
There is way too much content for Google to choose from in English. However, that's not the case in Hindi or Portuguese.
If you are open to expanding internationally, follow the tips in this post as it will help you pick the right regions to tackle first.
Conclusion
I hope I didn't discourage you from leveraging content marketing. It's still an amazing tactic that has helped me generate 1,864,246 unique visitors a month.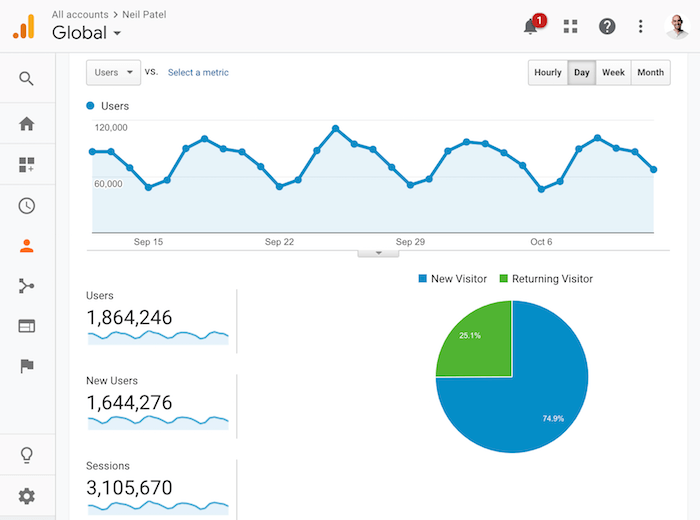 Sure, I've been doing this for some years now, but NeilPatel.com is one of the newer search blogs compared to sites like Moz or Search Engine Land, yet I was still able to do well. This is especially true over the last year where I saw most of my growth.
Also, the big strategy I shifted towards was to start writing personalized content… content that contains my life experiences and stories that can't be copied or created anywhere else.
Even if you are new to your industry, you can still reference other people's experiences or tie in lessons you learned from your past as some of those things are still relevant today.
If you can't do that, resort to using data. People love reading about new trends and strategies as long as you have new data to back up your claims.
So, are you going to write fresh, new content versus regurgitating the same old information again?
P.S. Like and share this post on social media. Fill out your details below and click on the subscribe button below to get our newsletter with updated articles in your inbox.