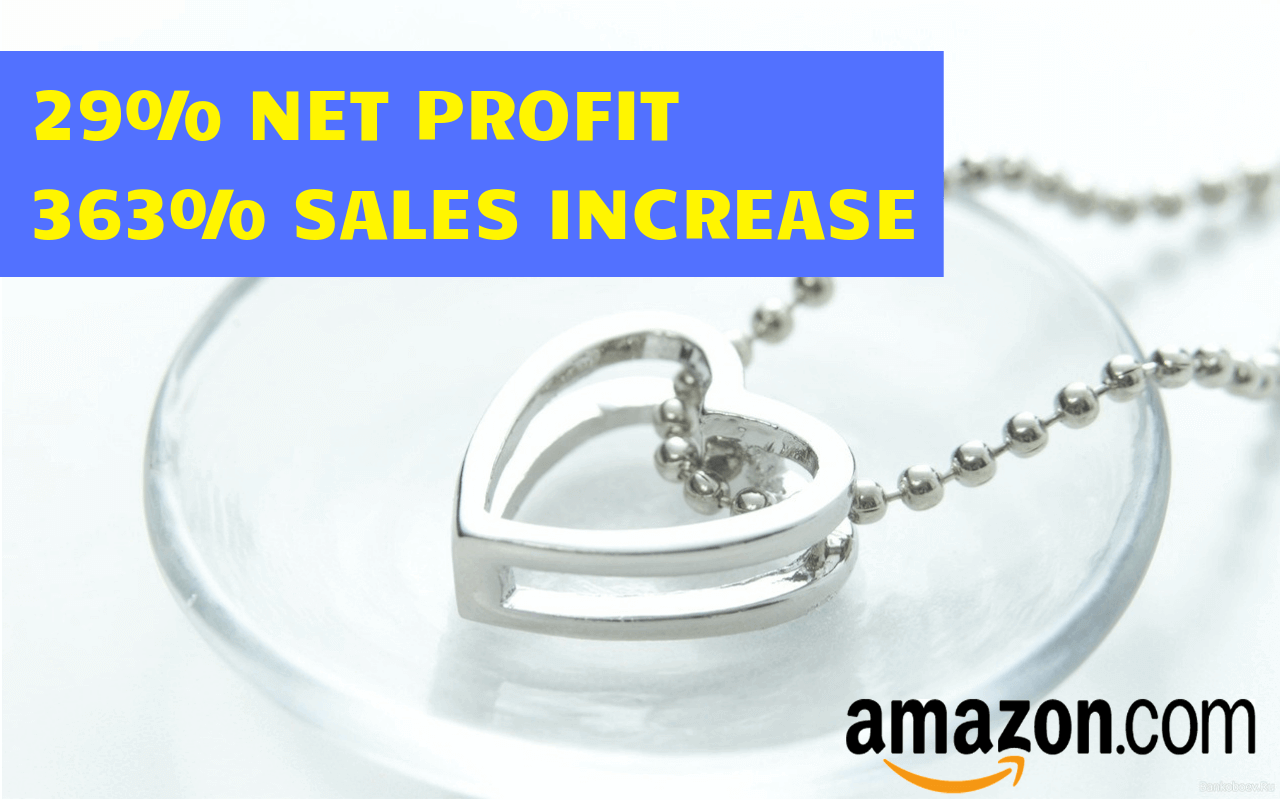 This post may contain affiliate links. Click here to find out more about this.
Amazon Seller Account development and optimization can be a nightmare if you are not an expert. Unless you have a dedicated expert/agency working on your brand optimization and sales improvement the chances of succeeding are almost zero.
PowerHouse Consulting Group comes to support Thai and Southeast Asian brands who want to create a strong brand and a very decent income stream by selling on Amazon in the US, Europe, and other markets like Japan, Canada, China, India, and Mexico.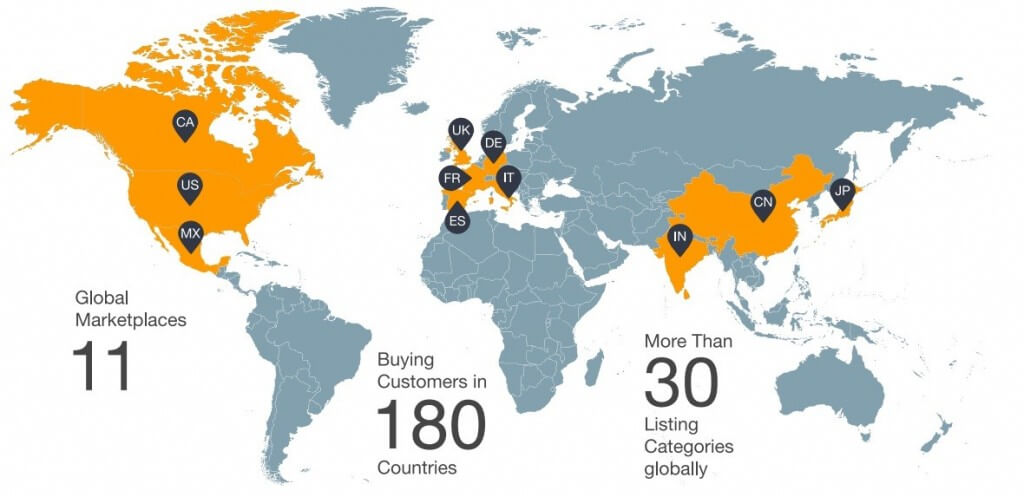 What we usually hear from clients who attempted to manage their Amazon seller account alone is that "it's a labyrinth". As with every tech thing. Amazon changes many things very fast and very often, making it impossible to follow.
You should be able to focus on managing your brand, developing your products, improving the customer experience, expanding in new marketing channels, optimizing your logistics, and focusing on the bigger picture, instead of worrying about the maze called Amazon.
However, one significant thing you can't ignore is that Amazon. At the moment, commands almost 70% of global online searches when it comes to product searching and shopping. It means that people nowadays go to Amazon instead of Google for their shopping. If you are not there, you are ignoring this 70% at your peril.
Jewelry Brand Amazon Seller Account Case Study
We started working with a Thai jewelry brand where the owners and staff were trying to develop a seller account and make some sales on Amazon US in, last quarter of 2018. After almost one year of struggling and failing to fulfill Amazon's requirements as well as not reaching any significant sales numbers, or establishing a decent net profit.
They decided to turn to the experts hiring PowerHouse Consulting Group to help them improve their sales and develop their jewelry brand on Amazon starting with the US marketplace and expanding to the European marketplace and Japan shortly.
Let's Dive Into More Details
As expected the Amazon back office situation we found was dramatic and that is a normal phenomenon unless you are an Amazon expert.
Our team started working with product listings that had default low-quality photos, titles were written from a manufacturer point of view (SKU: Abcd-ert…), no bullet points, no descriptions (or very short with Google-translated English), no Enhanced Branded Pages, no brand registered at all, no researched keywords, no product specs, no GS1 international EAN/UPC barcodes, and the list goes on…
Product Listing On-Page Optimization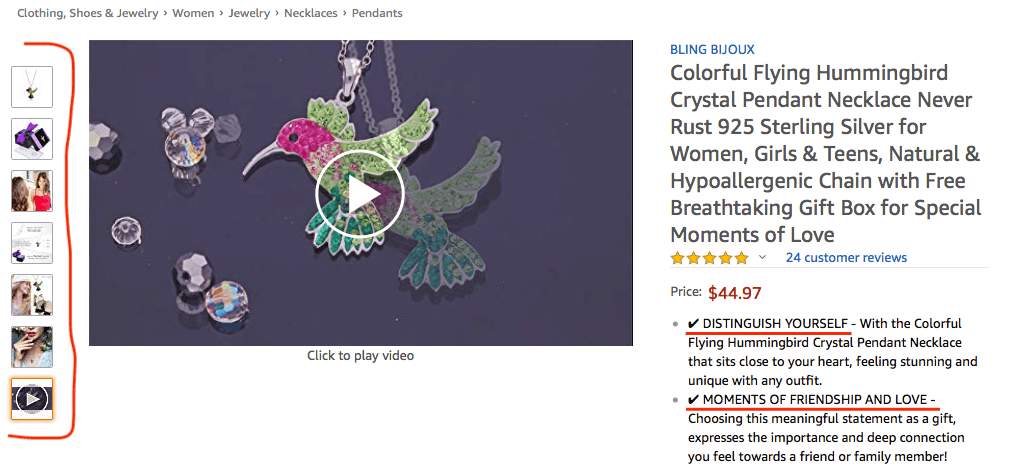 We worked on the product listings from the ground up, explaining to our client exactly how to design the photos, what to include to make them eye appealing, how to shoot the videos, and what specs we need from them to add to Amazon product listings. (To upload a video, implies that you have first registered a trademark and hold a brand in Amazon)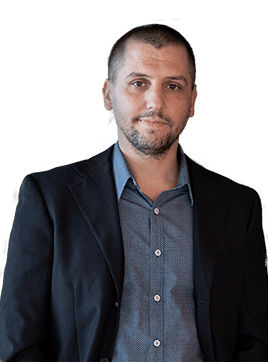 See How My Agency Can Drive Massive Amounts of Traffic to Your Website
SEO – unlock massive amounts of SEO traffic. See real results.
Content Marketing – our team creates epic content that will get shared, get links, and attract traffic.
Paid Media – effective paid strategies with clear ROI.
The next step was to write new appealing, and optimized titles that would take advantage of the 200 character space Amazon allows in the jewelry category as well as add as many keywords as possible.
After that, we had to plan the bullet points. Make them easy to read and straight to the point for mobile users (capital letters and checkmarks) as well as describe the most critical elements of the jewelry brand or why a visitor should choose this jewelry instead of a competitor one.
Additionally, behind the scenes, we completed extensive keyword research including competitors and Google sources. Then we added those keywords to each listing, and that helped dramatically with the organic rankings of the product listings on Amazon. Of course, the keywords are updated frequently according to updated research.
Enhanced Brand Content Pages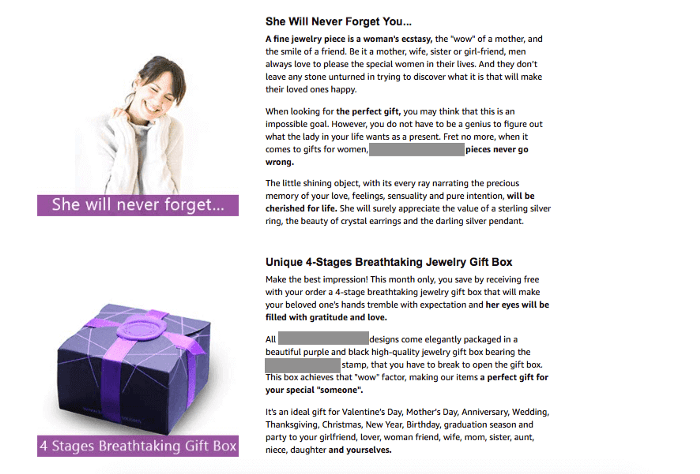 Simultaneously, as our team was working on optimizing the product listings, we collaborated with our client to obtain all the necessary documents to register the brand with a trademark in Amazon. That allowed us to get access to features like Enhanced Brand Content for product listing pages as well as a Brand Store with a brand vanity URL on Amazon.com!!! (how cool is that?)
Additionally, we could upload product videos, access the Amazon Early Reviewer Program, and run advertising campaigns sending traffic directly to the Brand Store. After working with Amazon's Enhanced Brand Page templates and widgets the product listing pages looked a lot more professional and provided more information to the viewers. That part increased sales by at least 30% to 40%.
Focus On Attracting Reviews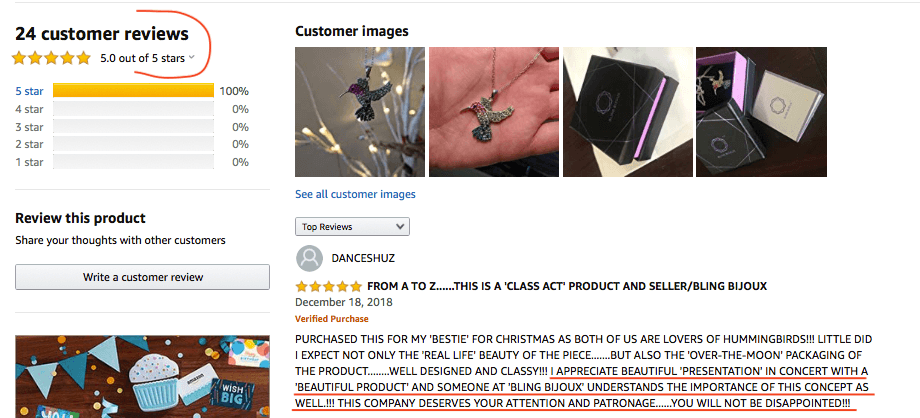 When you are selling online, customer reviews are the holy grail of a product's success. Reviews can lead to tons of sales or destroy your brand name if not seriously taken under consideration. A lot of retail business owners do not understand that an online buyer will judge a product by the reviews and the photos. Period!
Simultaneously, and according to Amazon policies, it is illegal to solicit reviews from customers. So this is something you will have to take under consideration before doing any review request actions.
In PowerHouse Consulting Group, we use precise tools and email templates that make customers want to leave us feedback before even asking them for a review. That way, we can be sure that we will take care of it before it turns out to be a negative review nightmare if any problems arise.
Maintain The Account Health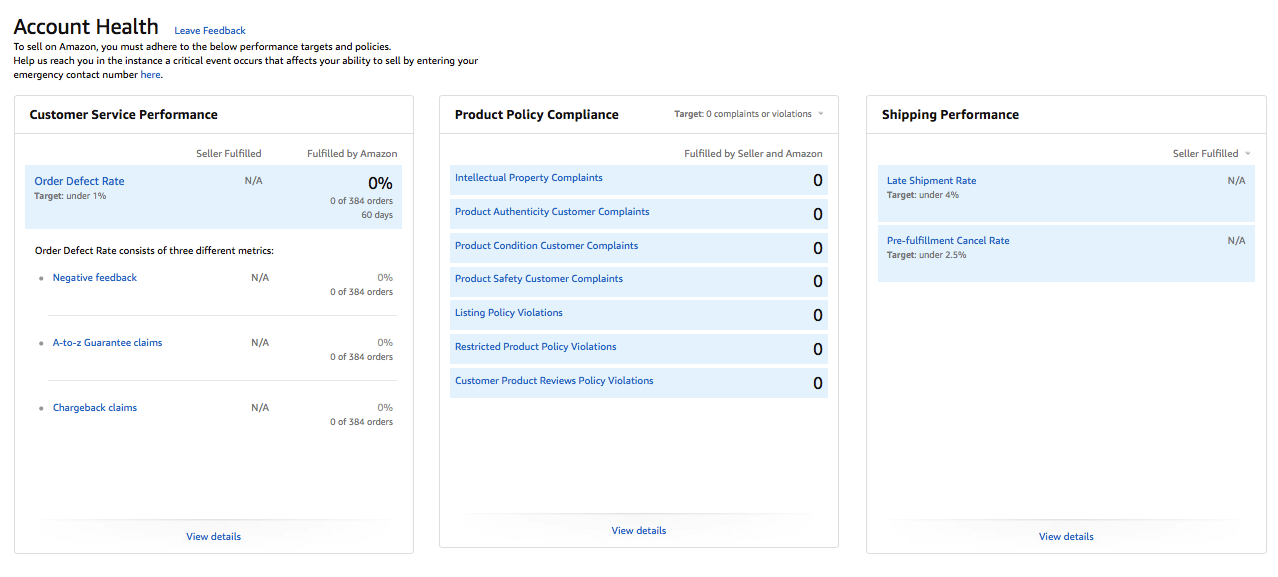 Your Amazon Seller account has to follow many requirements due to Amazon's focus on excellent customer support and satisfaction. For that reason, every seller account has an Account Health dashboard and has to main excellent ratings there.
Our client's Account Health is one of the most critical aspects of our service quality. Imagine working with a Marketing consulting agency that got your Amazon Seller account penalized, not right. All of our decisions and discussions with our clients start with Amazon Seller Account Health in mind.
Improve Inventory Performance Index

The Inventory Performance Index is based on how well you keep popular products in stock. How well you maintain healthy inventory levels and fix listing problems. The index tells you everything you need to know about the performance of your inventory, and it increases or decreases, dramatically slow, week by week.
It took us more than six months to increase by 60 points. That should give you an indication of how important the Inventory Performance Index is about your inventory.

Another important inventory index is the Excess Inventory Percentage that tracks the percentage of excess inventory you maintain in Amazon's warehouses about the total stock. (i.e., in the above photo 44.94% is the excess inventory from the 100% of the entire inventory)
Following the recommended actions will help you to improve profitability and save on storage fees. With this client, we received an inventory that was more than 65% in excess and unsellable.
Since then we have worked methodically, using all kinds of different coupons and promotions Amazon provides. To decrease the excess inventory by more than 20% WITHOUT removing any SKU and without losing money for the client.

FBA In Stock Rate Performance
Here's another essential index that affects your inventory performance. The FBA In Stock Rate Performance measures your inventory stock rate. In this photo, you can see that it kind of works as proof of our successful results.
Due to a lot more sales than expected, our client went out of stock for the first time (even for a few days) for some of the best-sellers SKU's. The ball is at our client's factory, to manufacture and ship products, faster than Amazon can sell them.

The last of the inventory performance indexes is the Strander Inventory Performance Index. This index tracks listings with issues that are unavailable for purchase on Amazon.
Most people don't know that Amazon accepts feedback and recommendations from everywhere. That means that a competitor could claim incorrect details or flag one of your products. Automatically that product would become stranded and unsellable, costings you potentially thousands of dollars daily.
Keep Control Of Advertising Costs

Advertising is one of the most critical sources of viewers for your products. If done correctly, it can build you a steady and predictable sales rate. However, even without sales, advertising is still aiding in brand awareness and authority in your brand name.
If you are a brand that controls the manufacturing process and operates on a high margin, then advertising on Amazon can literally "print money." Take the case in the photo above, if our client's net margin is 50% and they have a 22% ACoS (Average Cost of Sale). It means that the client earns a net 28% per sale.
Advertising on Amazon is slowly reaching Google AdWords levels in the depth of details and data to work with, and it's something that you need an expert to manage.
Evaluate Sales Results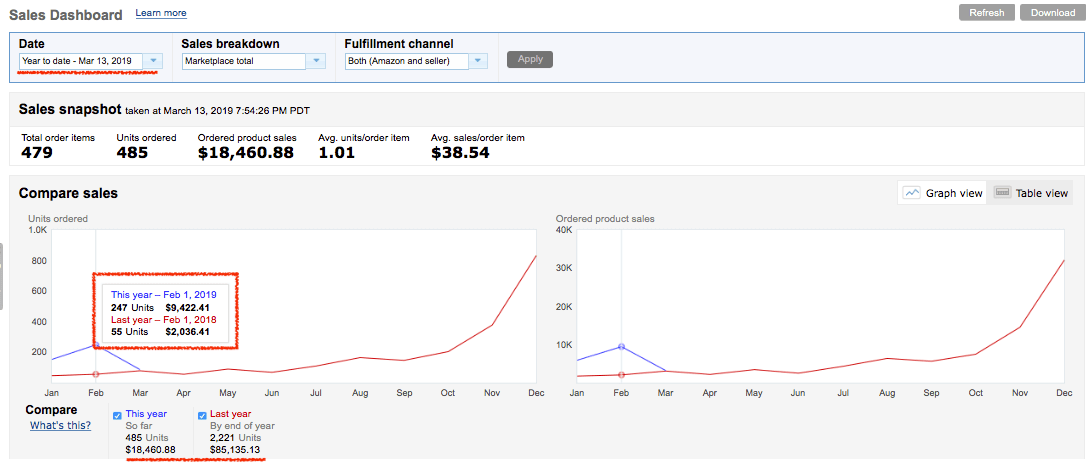 As a businessman or woman, you need to know and evaluate your brand's growth on Amazon. Here you see an example of a Year-to-Year sales graph with the exact sales numbers every month for the running year and the previous year.
A whopping +369% increase in sales for February 2019 (compared to February 2018) is pretty impressive.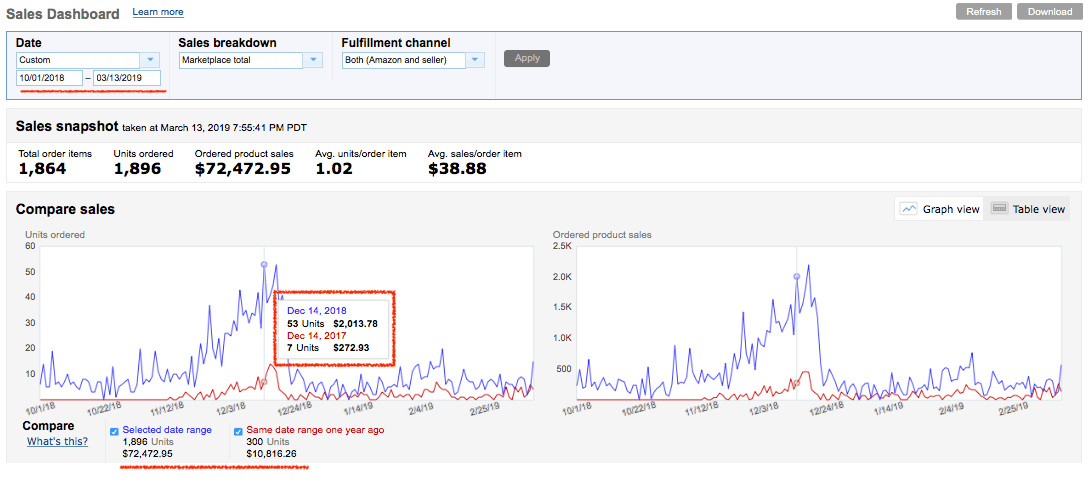 Here you can see a comparison between the peak season of 2017 and 2018. The numbers are dramatically different. With seven units sold on the best day of 2017 and 53 units sold on the best day of 2018.
Just a mere 600% increase in sales between an optimized and a self-managed Amazon Seller account.
Keep An Eye On The Net Profit

Last but not least, the most crucial part of your business. Unfortunately, Amazon does not give a direct way to calculate a client's net profit so we are using third-party software. Where we can input all the client's expenses like product cost, shipping cost, import tax, packaging, etc.
The software then will use data from Amazon's API to present us with the correct data like total net profit and net profit per product AFTER all expenses. A significant number to track for your business and overhead.
Opt-In To The Latest Amazon Promotions
Amazon published the Vine program for registered brands in the US during 2019. As our team is always searching for new opportunities to increase our clients' revenue, we saw this as an inspiring way to boost sales, so we opted-in 5 of the client's best-seller items.
The results were unexpected, with a dramatic boost in sales and brand awareness from popular influencers and reviewers in the US market. The items received exciting 5-star reviews from TOP-1000 and even TOP-500 reviewers on Amazon, increasing each item's conversion rates by a lot!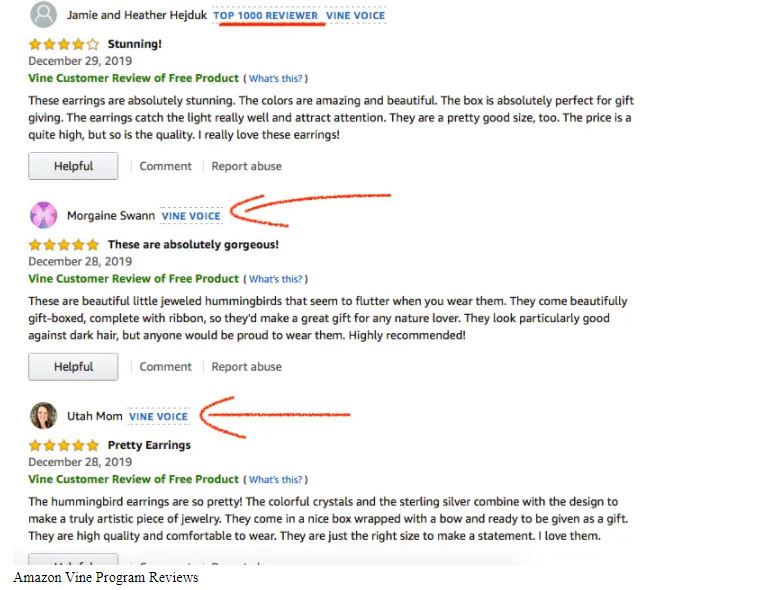 Expand Globally To New Markets
We planned to take full advantage of the markets that Amazon allows a seller to sell in since the beginning. During 2019 and with our help of planning the correct strategies and researching each market for the appropriate items to sell, our client established their brand in not 1, not 2, but 29 new countries and markets!
That means our client's brand is now visible and available for sale in all European Union, Australia, and Japan. This is a very time-consuming and hard-working feat because you need to manage inventory in different countries, manage different currency conversions and pricing, and work with listings in languages like German or Japanese.
We expect to increase market penetration and boost sales during 2020, where the listings will be completely optimized for each local Marketplace while targeted advertising campaigns will support the brands' goals.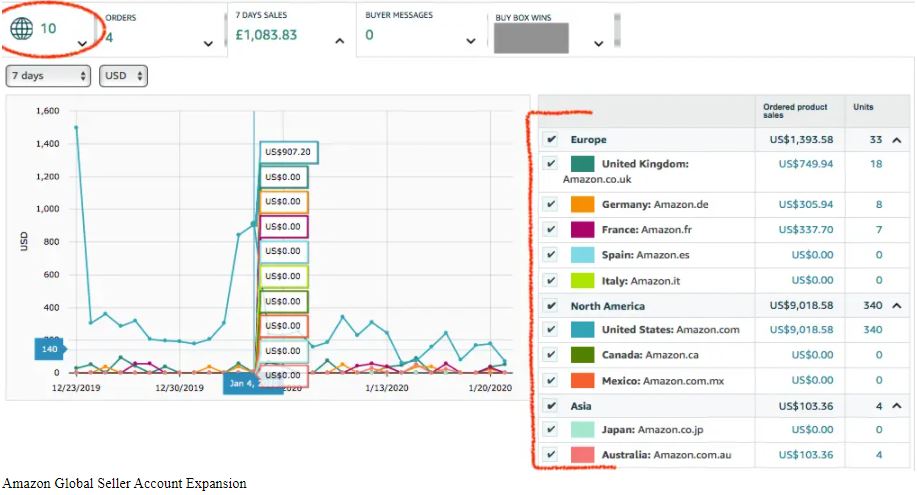 Get A Spherical View With brand Analytics
No matter the industry or niche, intimately understanding one's audience is crucial to earning more sales. With Amazon's new demographics analytics information, brands with registered trademarks can finally gain the perspective they need to enhance their performance on Amazon.
This is a new way to improve not only your sales but your actual organic customers. Separating your unique customer data helps you a lot more to expand and focus your Marketing Strategy on your returning customers or new customers pool. This, in return, translates to more sales and better managing your Marketing expenses, and eventually profit.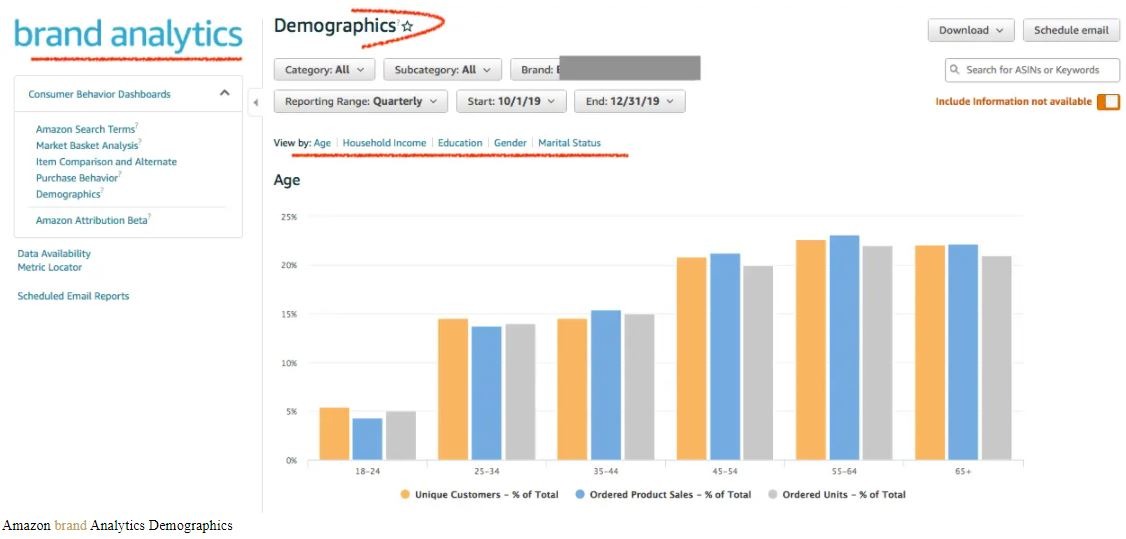 Keep Improving The Inventory Performance Index
Your overall Inventory Performance Index score is based on three categories: In-stock rate, excess inventory percentage, and stranded inventory percentage. Each of these metrics is helpful for just about any FBA seller looking to.
We optimized inventory, especially top-selling products that continually stock out due to high demand, Fix stranded inventory immediately, and remove excess inventory to increase the IPI.

Focus On The Sell-Through Index

Reduce The Excess Inventory

Track Your ACOS
ACoS is an important metric for evaluating the success of your advertising campaigns on Amazon. But it's equally important to view your ACoS in the context of your overall goals. This can be achieved by applying different strategies and applications and a constant review of things that work and can be improved. A good ACoS varies per category, and ultimately, everyone wants to get as much profit to the lowest to spend possible or as close to 0% ACoS.

Keep Increasing Your Sales Year-On-Year
A 3.1X times increase in total sales for Q2 in 2019 proves that selling on Amazon needs a long-term business plan and Strategy. The more years you prove you are a professional selling brand and maintain your Amazon Seller Account in good standing, the more sales and revenue will come.
Amazon rewards serious sellers and professional Seller Account Management, giving a multiple times increase in annual revenue. That's the raw power of working with Amazon Experts to build your online selling business internationally.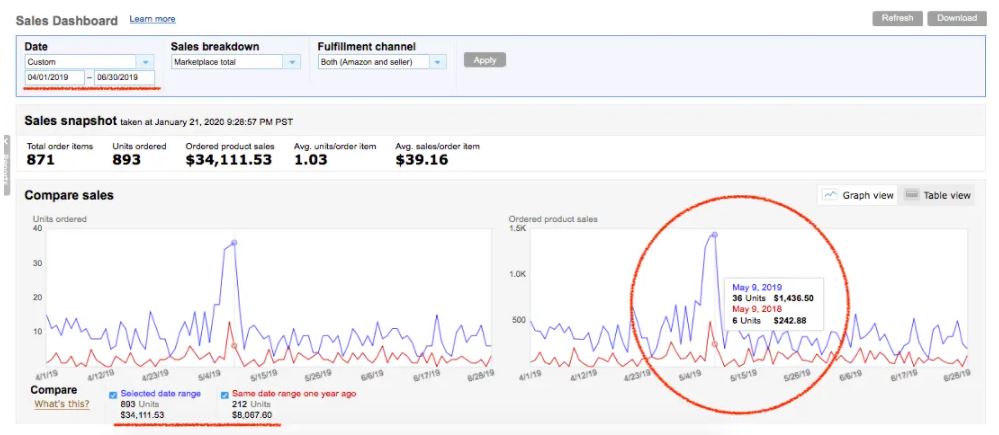 Understand Your Profit Margins
A good seller looks at his profit; a great one checks its trend as far date as possible. In this scenario, we have the past years' profit and trends, with a dramatic increase in profit margins!
Another solid proof is that by professionally managing and optimizing your Amazon Seller account, one can reach profit margins you cannot easily achieve under standard E-commerce or retail environment.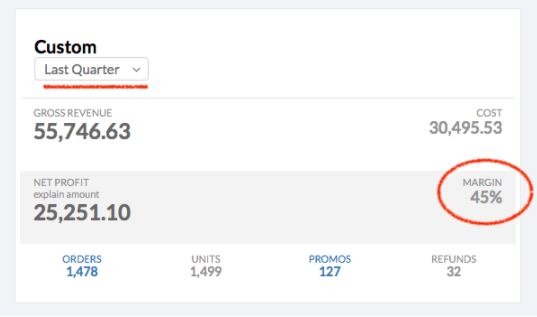 Get Rewarded By Amazon For Your Performance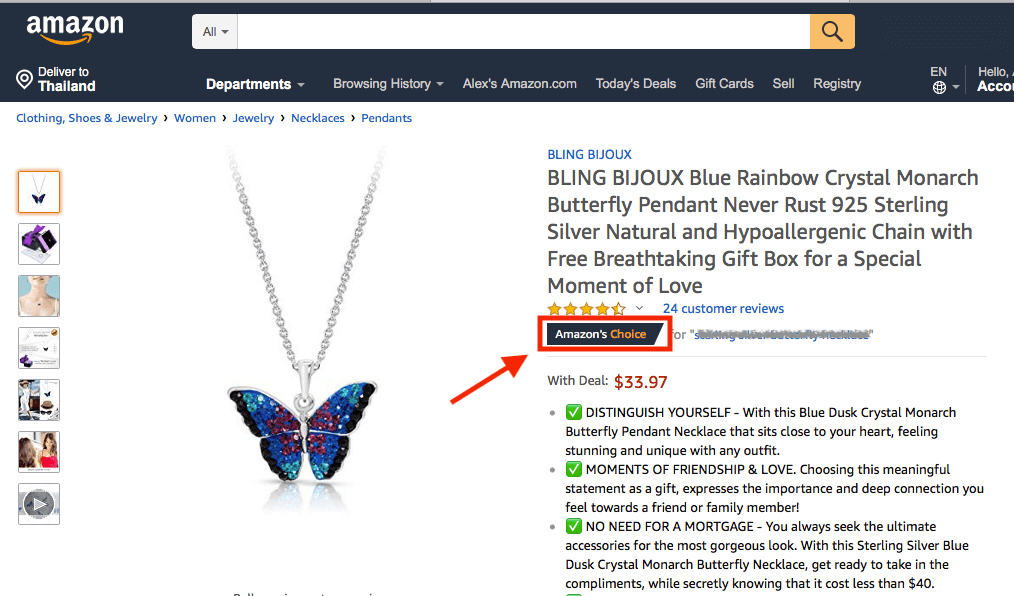 Amazon rewards good business, which means rewarding great sellers with professional brands that help Amazon make more sales. And when Amazon rewards you by giving your items the "Best Choice" tag or including your items on the "Best Deals" page, you know you are definitely doing something very, very well!
Just imagine the brand exposure and the number of sales these special Amazon perks brought to our clients in addition to the brand awareness and recognition their brand earned.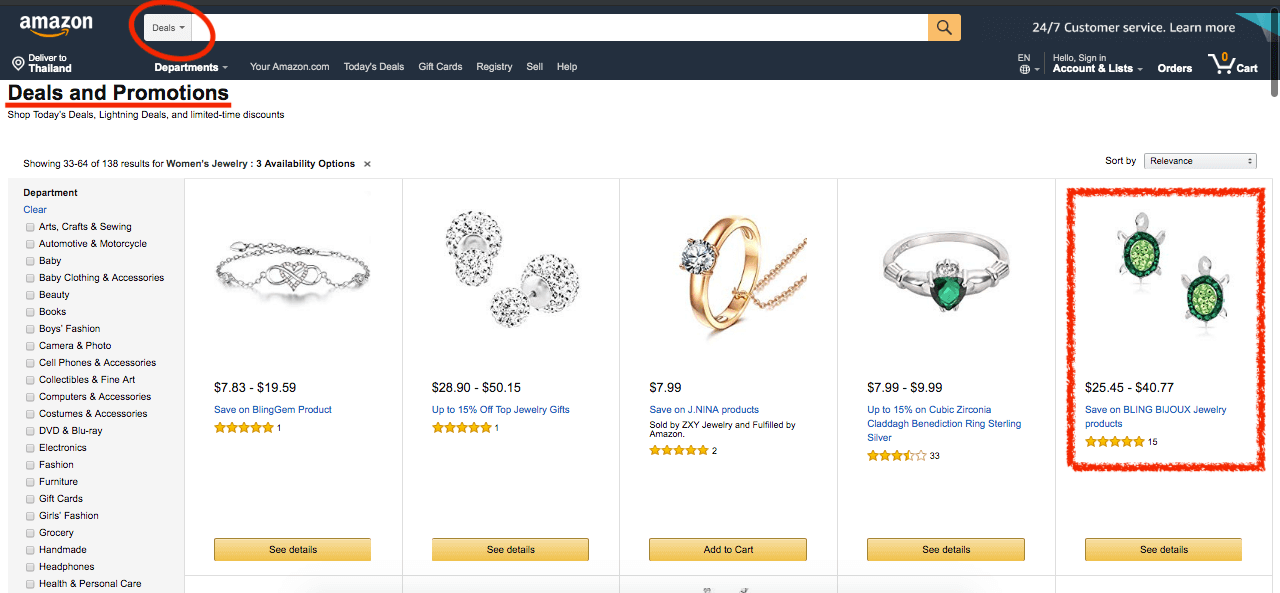 Content Optimization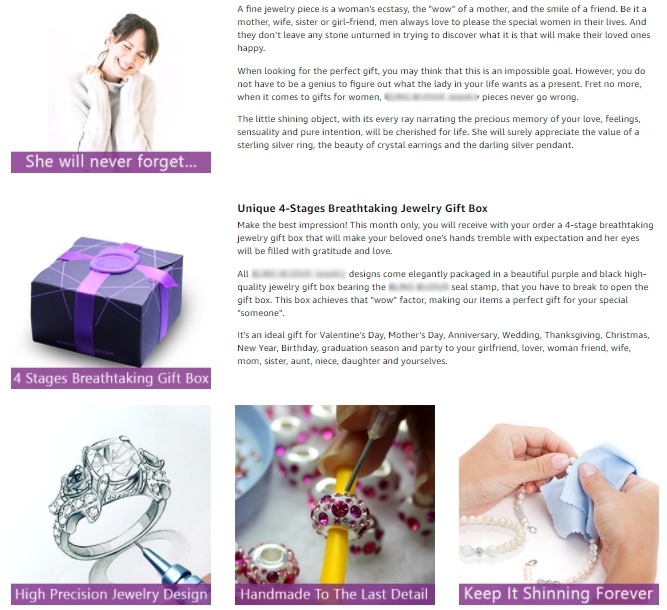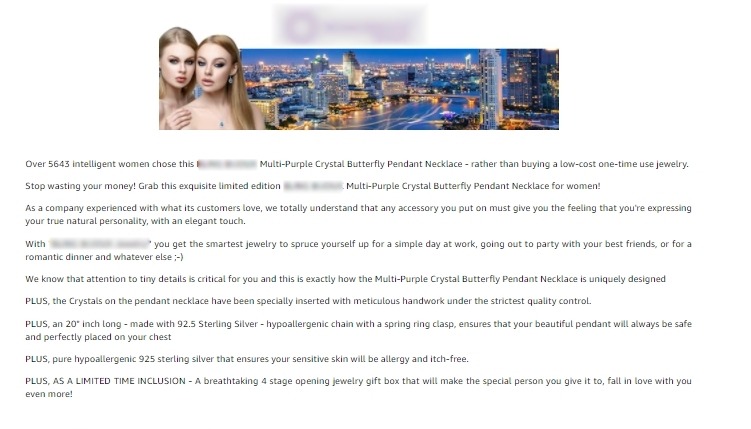 At powerhouse consulting agency, we pride ourselves on ensuring clients are satisfied with their content as our relationship continues to grow and evolve. So, instruments needed to take full advantage of every content opportunity on Amazon.
We worked together to build a brand store and update enhanced content. Amazon storefront allows small businesses to shine. By building a brand's story and creating a product that people will want.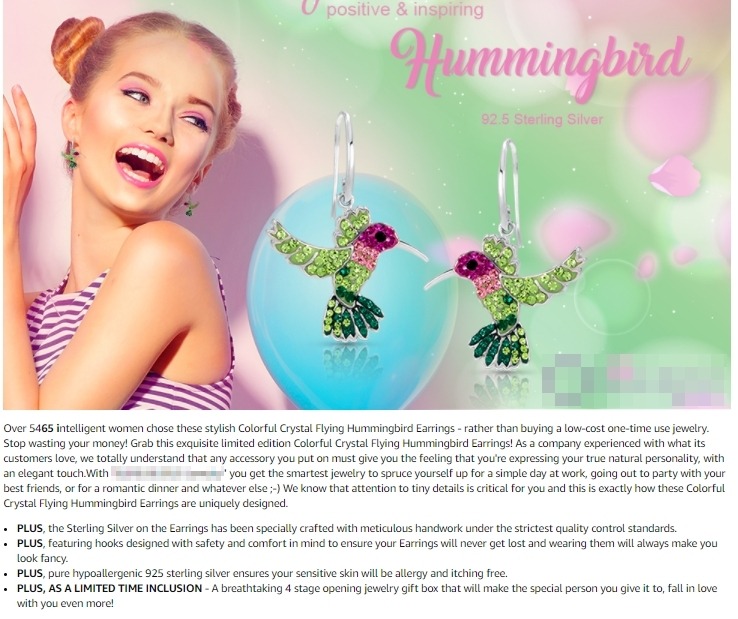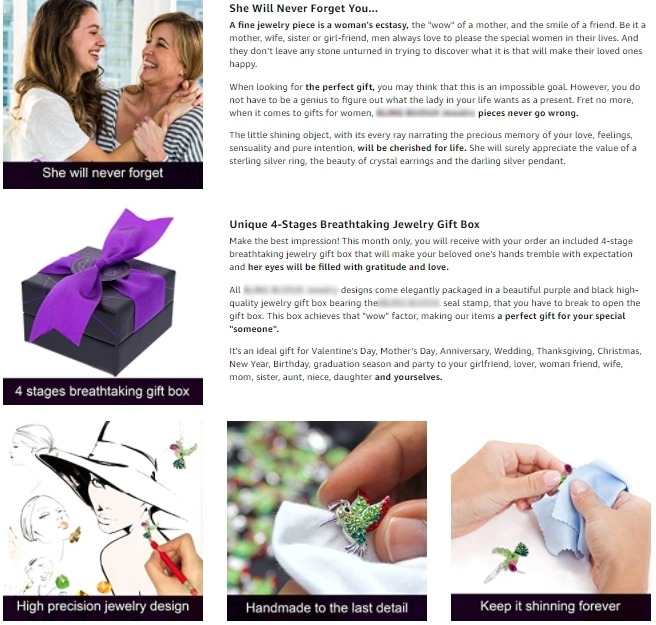 EBC provides an additional opportunity to capture your prospects' attention and makes a case for why they should choose products.
In Amazon CA and AU, we replicated the enhanced brand content to attract more customers and rank higher in the search results, thus increasing the chances of getting more conversions.
Continuous Backend Search Term optimization

Amazon Backend Keywords are the hidden search terms that can be added to a product listing to boost its visibility. The backend search fields on the seller central account play a crucial role in Amazon SEO.
Products on Amazon can only be found via search if they contain all of the keywords a customer entered in the search query. That's why the most important rule in search terms optimization on Amazon to add as many relevant product keywords.
With the use of an amazon search term optimizer, we were able to identify duplicate keywords.
Generally recommended following a frequency of 3-4 weeks to fine-tune your Amazon backend keywords.

These keywords are not visible to the user visiting the product listing page. But instead, these keywords count in for the search terms that you were unable to add on the page of the product listing copy.
With Search Terms Optimizer's help under the brand dashboard, we can identify duplicated search terms present in other parts of the listing, like the title, bullet points, etc.
Advertising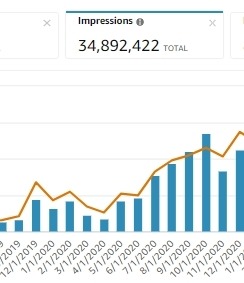 While driving sales was always a top goal, we understood that generating brand awareness is important yet tougher than ever.
Accordingly, we made it a monthly focus to promote best-selling products and shift the budget toward priority items. We utilized sponsored brand ads and sponsored product ads to increase engagement with their products.
With the help of amazon advertising, we were able to increase the store visibility of our client.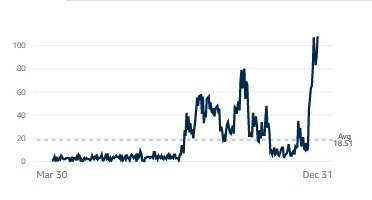 Expand to New Market

As we foresee last 2019 for penetration and boost sales during 2020, now our client established their brand in 2 additional countries: amazon Netherlands and amazon Sweden with our help of planning the correct strategies and researching each market for the appropriate items to sell.
NET PROFIT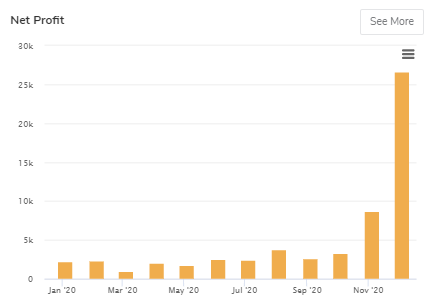 Our approach to constant, strategic bid management and optimizations led to a standout campaign for this client conversion as well. In 2020, net revenue increased by 50% compared to 2019.
Maintaining ACOS

ACoS will help you determine how successful your ad campaigns are. At powerhouse consulting agency, we were able to maintain a low ACOS by defining an ideal target ACoS to see just how much profit we will make.
KEEP IMPROVING THE INVENTORY PERFORMANCE INDEX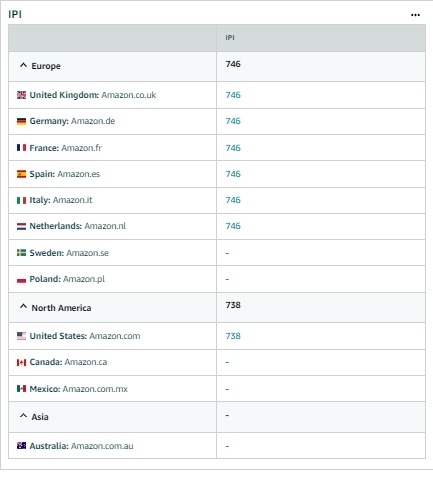 The Inventory Performance Index is Amazon's first step in setting a standard on inventory performance.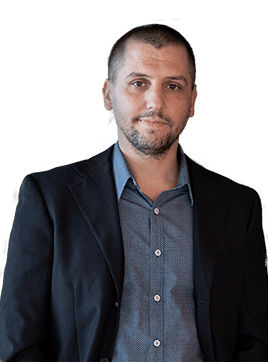 See How My Agency Can Drive Massive Amounts of Traffic to Your Website
SEO – unlock massive amounts of SEO traffic. See real results.
Content Marketing – our team creates epic content that will get shared, get links, and attract traffic.
Paid Media – effective paid strategies with clear ROI.
To increase the IPI, we check stranded inventory regularly, resolve the stranded issue, improve campaign keywords, and optimize the backend.
Increased Reviews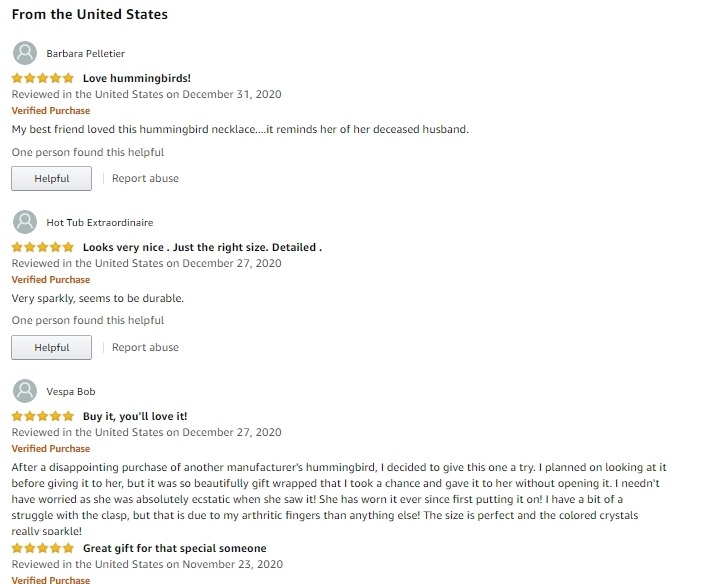 Customers are more likely to purchase a product after reading a positive review. Therefore, it's important to know how to get reviews on Amazon and get them quickly and legally.
As our team is always searching for new opportunities to increase the number of reviews, we email follow-up sequences and utilize Amazon Request A Review Button.
Voice of the Customer

Voice of the customer (VOC) is the process of capturing feedback from your customers about their experiences and expectations, whether positive or negative.
The VOC is meant to help you shape your business Strategy around your consumer base's desires and needs to drive customer retention, build higher-quality products or services, and reduce customer acquisition costs.
Thai Jewelry Brand Amazon Seller Account Case Study
According to public data and our experience, brands usually double, triple, or quadruple in sales and revenue after a successful year with fully optimized Amazon Seller accounts. Going strong for year two, with a hefty goal in sales.
Our specialized team in PowerHouse Consulting Group manages tens of clients' Amazon Seller accounts, helping them sell almost globally from the US, Canada, Mexico, European countries to Japan, and more. We also work in collaboration with the Amazon Global Selling team Thailand on some of our accounts which allow us to get extra support and to apply for special deals and seasonal events which can grow revenue for our clients even further.
Would you like to build a successful brand on Amazon and build additional revenue streams?
Contact us via our contact page or Twitter for an initial consultation appointment.